Window Cleaning in Long Island NY
No matter what a splendid mansion you have, it will hardly look inviting when its windows are dirty. At the same time, we often skip this part of domestic work – we clean rooms, kitchen utensils, remove dust and ignore windows for weeks or months. Yes, it's a time-consuming chore as you need to spend half a day to make your windows shine again. Fortunately, there is an affordable and efficient solution – to hire a professional windows cleaning team.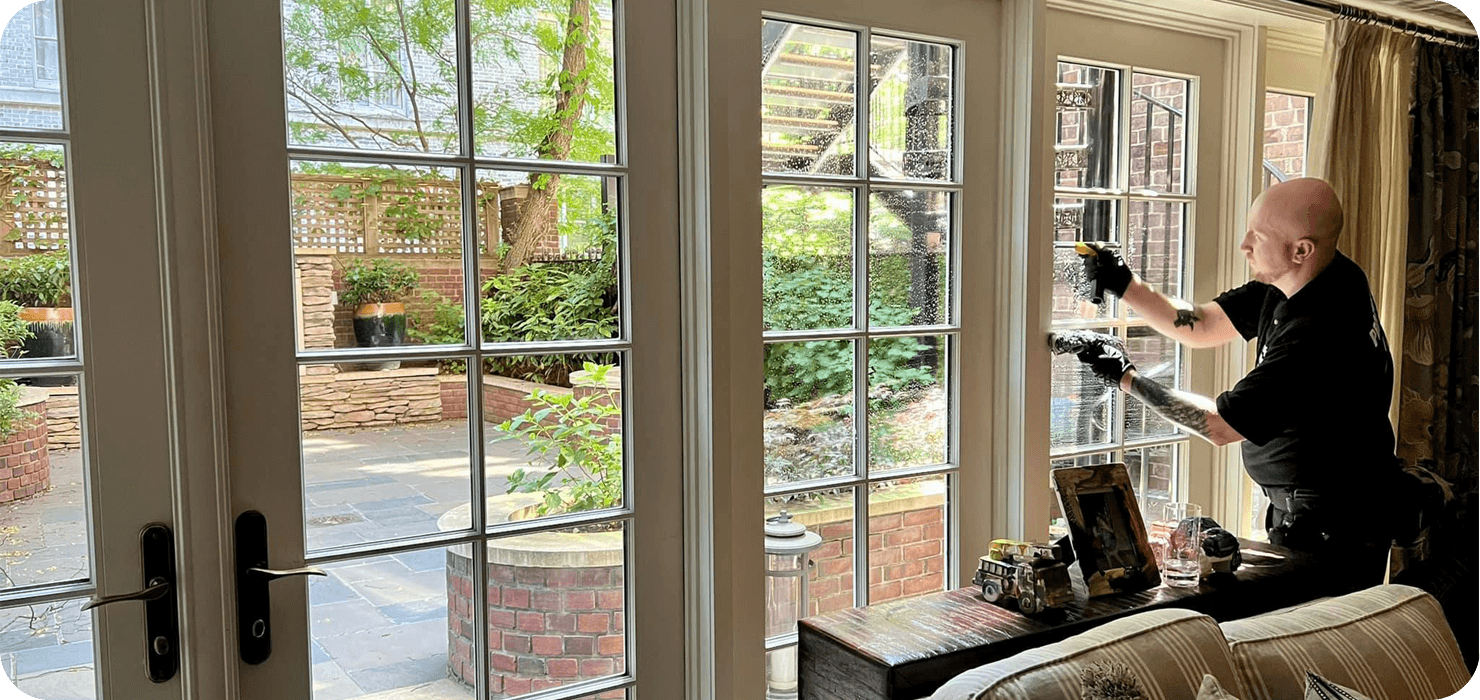 Make windows clean to keep your home beautiful
Neat and cozy inside, your home will not look appealing anyway when its windows are dirty. Make it sparkling again to add some freshness and home's curb to your lovely place.
Time works against windows, it can damage them by hard water, debris and dirt. Etching into the glass, they effect the condition of windows and reduce its service life. You can extend the lifespan of your windows considerably when remove contaminants and provide regular cleaning of windows.
Cleaning products do matter!
The set of ordinary instruments you use to clean rooms is not suitable for windows cleaning. Professional instruments make a huge difference. When you hire a special team, you can be sure that your windows will be cleaned with high-quality equipment and cleaning products. Besides, you can rely on professionalism of workers who know how to make your windows shine and clean them with no streaks.
Think about your safety
Have you had that feeling of fear when you were cleaning windows at height? It is dangerous indeed. More than one story and you put yourself to risk. The same with ladders – trying to reach high windows, you always risk to fall. Hiring a professional team in Long Island, NY, will save you from this necessity to climb a ladder and contact with harsh chemicals containing in cleaning products. No matter how well you treat this work, you will hardly spot potential problems with your windows while cleaning – damaged glass, poorly-fitted window screens, wood rot etc. Early solutions of such problems will save your time and money in the longer term.
Let professionals do the job for you
Windows cleaning is a time-consuming work. The best you can do is to hire a special service of the company like Simon's Windows and focus on other important things while your windows are getting clean.
At Simon's Windows you will find professional workers – no part timers or industry drop outs – only well-trained people with substantial experience. Most of our clients come back again – 78% of our business is based on repeat consumers.
It's nice to see that your windows are cleaned by neat, well-groomed specialists who wear a full body uniform and arrive in special corporate cars. Along with that, our company has a good website to estimate the price, find the contact information, read about insurance and types of additional services.
Our commitment
Regardless of the project, we do our best to provide perfect customer service and transcend your expectations. We build our work on significant principles of honesty and integrity. The reputation of Simon's Windows is exceptionally important to us and we always take pride in the quality of our work. The best reward are clients' gratitude and repeated calls.
Each worker of the company has been through a long-lasting training process. At the same time, we believe that human qualities are also important, that is why our workers are all polite, punctual, courteous. You can fully rely on them. You are going to enjoy how fresh and clean your windows will become!
Objects in Long Island, NY, are very diverse: cottages, high-rise buildings, historical houses with stained glass windows… And be sure that Simon's Windows is the best solution for each window in the city!