Many people think that home windows cleaning is not the job to hire professionals but the one to be done with their own hands. It actually depends on the result that would satisfy you. Seemingly clean windows or truly sparkling ones to minor details including window screens and sills. When you hire professional services for cleaning windows, you ensure a longer service period of windows and enjoy beautifully clean "eyes" of your house.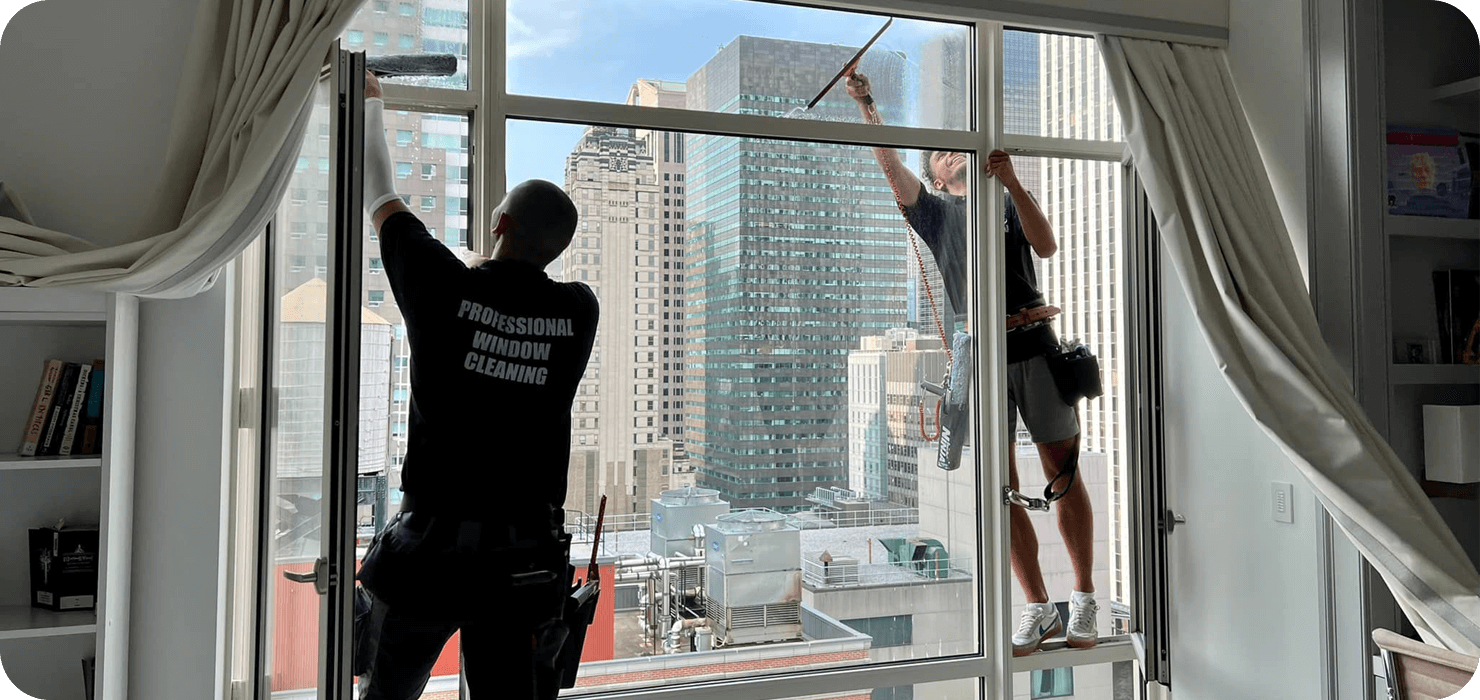 Home cleaning is the routine that does not often include cleaning of windows. People often forget to do this. But windows are much exposed to dirt, grime, hard water, dust and soon they lose their transparence and shining. No matter how hard you work to clean your home, with dirty foggy windows it will never look ideally cozy.
Home window cleaning – is it simple on your own?
Just mechanically and physically it's not difficult to clean windows at home. But if you work at height, this work becomes really dangerous. Besides, it involves much chemistry and different instruments if you want your windows to be perfectly clean and have no steaks.
The beautiful long-lasting result can hardly be achieved without professional help. If you still hesitate whether you need a specialized company to help you with home windows cleaning, we offer you to consider these factors saying in favor of professionals:
specialized cleaning products and tools – products you can buy in the nearest store will not ensure the long-lasting effect. Chemicals, sponges, cloths, squeegees and other tools used by professional organizations make your windows look clear and bright for a long period of time.
reduced waste and eco-friendliness – you waste much more water trying to make your windows clean and repeating cycles of washing to eliminate stains. Experts know how to get the job done promptly with the minimal amount of water. This solution is environmentally reasonable.
hard-to-reach-areas – admit this fact, when you clean windows on your own, you certainly leave some external areas untouched simply because you don't have proper tools to reach them. Professional window cleaners do have special instruments to reach every dirty spot of your window, that is why 100% ideal result is easier to guarantee.
saving time and efforts – hiring a professional team for this job, you can occupy yourself with other important business.
clean windows free of stains – this is the most disappointing thing for those who decide to clean windows by themselves. It seems they do the job perfectly but as soon as the windows dry out, they see those terrible stains on the glass. And they bring water and cleaning products back to repeat everything again. And again. And maybe even again. You don't have to fight off those pesky hard water stains if you trust experts. Do not annoy yourself and let professionals clean it up and apply a protective sealant to the windows to prevent buildup.
job done without leaks – have you had a problem of water entering your house after heavy rains? That's the problem that's getting only worse over months. The issue is easily diagnosed by experts who can provide the ideal solution and fix those leaks by appropriate sealing. Take care of your windows.
Simon's Window Cleaning Company is the key to perfectly clean windows
If you do not wish to compromise on the windows cleaning result, contact Simon's Window Cleaning and hire a team of professionals to make your home cozier. The company does not have part-time workers, only experienced and specially trained experts. Clients trust Simon's and always come back for repeated services.
Enjoy windows cleaning being done by well-groomed, uniformed polite workers who ensure the best possible result! It's more affordable than you thought! Contact the company for more details!